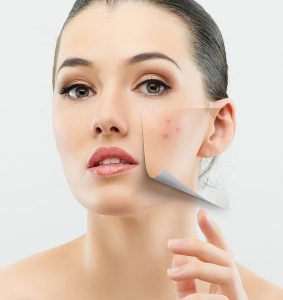 Acne (also known as acne vulgaris) is a long-term skin disease that occurs when hair follicles are clogged with dead skin cells and oil from the skin. It is characterized by blackheads or whiteheads, pimples, oily skin, and possible scarring. It primarily affects areas of the skin with a relatively high number of oil glands, including the face, upper part of the chest, and back. Several scales exist to grade the severity of acne vulgaris, but no single technique has been universally accepted as the diagnostic standard. Acne treatment depends on whether you have a mild, moderate, or severe type of acne. Sometimes your dermatologist will combine treatments to get the best results and to avoid developing drug-resistant bacteria. Treatment could include lotions or gels you put on blemishes or sometimes entire areas of skin, such as the chest or back (topical medicines). You might also take medicines by mouth (oral medicines). The resulting appearance can lead to anxiety, reduced self-esteem and, in extreme cases, depression or thoughts of suicide. If you have a lot of acne, cysts, or nodules, a medicine that you can buy without a prescription may not work. If you want to see clearer skin, you should see a dermatologist. We at Dermesthetic have experienced dermatologists and cosmetologists diagnosing and curing these diseases.
Consultation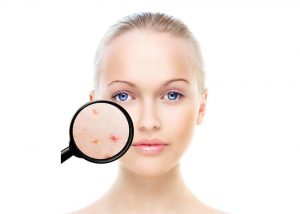 Acne appears when a pore in our skin clogs. This clog begins with dead skin cells. Normally, dead skin cells rise to surface of the pore, and the body sheds the cells. When the body starts to make lots of sebum (see-bum), oil that keeps our skin from drying out, the dead skin cells can stick together inside the pore. Instead of rising to the surface, the cells become trapped inside the pore. Sometimes bacteria that live on our skin, p. acnes, also get inside the clogged pore. Inside the pore, the bacteria have a perfect environment for multiplying very quickly. With loads of bacteria inside, the pore becomes inflamed (red and swollen). If the inflammation goes deep into the skin, an acne cyst or nodule appears. It is very important to diagnose that what type or types of acne appears on your skin. Many skin conditions can mimic acne vulgaris and are collectively known as acneiform eruptions. To diagnose acne, a dermatologist will first examine your skin to make sure you have acne. Other skin conditions can look like acne. Before starting treatment, a dermatologist grades the acne as mild, mild near to severe or severe. We at Dermesthetic have such expertise and knowledge.
Causes
Geneticsis thought to be the primary cause of acne in 80% of cases.
Hormones During puberty, in both sexes, acne is often brought on by an increase in hormones such as testosterone.
Infections A frequent factor is excessive growth of the bacterium Propionibacterium acnes, which is normally present on the skin.
Stress Few high-quality studies have been performed which demonstrate that stress causes or worsens acne.
Diet The relationship between diet and acne is unclear, as there is no high-quality evidencewhich establishes any definitive link.
Environmental Factors Mechanical obstruction of skin follicles with helmets or chinstraps can worsen pre-existing acne.
Medication Several medications can worsen pre-existing acne, with examples being lithium, hydantoin, isoniazid, glucocorticoids, iodides, bromides, and testosterone.
Acne Symptoms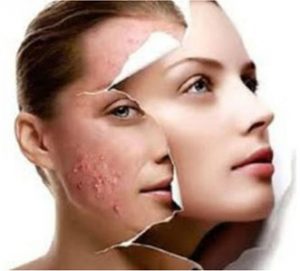 We at have experienced dermatologists and cosmetologists treating the acne along with counselling on psychological issue which may crop up due to acne and properly advise the patients regarding the treatment. Acne can cause more than blemishes. Studies show that people who have acne can have:
Low self-esteem: Many people who have acne say that their acne makes them feel bad about themselves. Because of their acne, they do not want to be with friends. They miss school and work.
Depression: Many people who have acne suffer from more than low self-esteem. Acne can lead to a medical condition called depression. The depression can be so bad that people think about what it would be like to commit suicide. Many studies have found that teens who believe that they have "bad" acne were likely to think about committing suicide.
Dark spots on the skin: These spots appear when the acne heals. It can take months or years for dark spots to disappear.
Scars (permanent): People who get acne cysts and nodules often see scars when the acne clears. You can prevent these scars. Be sure to see a dermatologist for treatment if you get acne early — between 8 and 12 years old. If someone in your family had acne cysts and nodules, you also should see a dermatologist if you get acne. Treating acne before cysts and nodules appear can prevent scars.
Acne Signs
Many people think that acne is just pimples. But a person who has acne can have any of these blemishes:
Blackheads.
Whiteheads.
Papules.
Pustules (what many people call pimples).
Cysts.
Nodules.
Acne can appear on the back, chest, neck, shoulders, upper arms and buttocks.
Treatment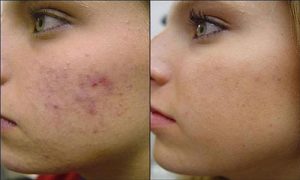 We at Dermesthetic have experienced dermatologists and cosmetologists treating the acne vulgaris and properly advise the patient regarding the treatment after making diagnosis of the type of acne. Treatment of acne depends on whether inflammation or bacteria are present. Some acne consists only of red bumps on the skin with no open sores (comedonal acne). Topical creams and lotions work best for this type of acne. But if bacteria or inflammation is present with open sores, oral antibiotics or isotretinoin may work better.
The most common types of medicines that doctors use to treat acne include:
Benzoyl peroxide, such as Brevoxyl or Triaz.
Salicylic acid, such as Propa pH or Stridex.
Topical and oral antibiotics, such as clindamycin, doxycycline, erythromycin, and tetracycline.
Topical retinoid medicines, such as tretinoin (Retin-A), adapalene (Differin), and tazarotene (Tazorac).
Azelaic acid, such as Azelex, a topical cream.
Isotretinoin, an oral retinoid.
Low-dose birth control pills that contain estrogen (such as Estrostep, Ortho Tri-Cyclen, or Yaz), which work well on moderate acne in women and for premenstrual flare-ups.
Androgen blockers, such as spironolactone. Androgen blockers can be useful in treating acne. These medicines decrease the amount of sebum (oil) made in your pores.
Hydroquinone lightens the skin when applied topically by inhibiting tyrosinase, the enzyme responsible for converting the amino acid tyrosine to the skin pigment melanin, and is used to treat acne-associated postinflammatory hyperpigmentation.
Topical and oral preparations of nicotinamide (the amide form of vitamin B3) have been suggested as alternative medical treatments. It is thought to improve acne due to its anti-inflammatory properties, and its ability to suppress sebum production, and promote wound healing.
Micro needling is a procedure in which an instrument with multiple rows of tiny needles is rolled over the skin to elicit a wound healing response and stimulate collagen production to reduce the appearance of atrophic acne scars in people with darker skin color.
Subcision is useful for treatment of superficial atrophic acne scars and involves the use of a small needle to loosen the fibrotic adhesions that result in the depressed appearance of the scar.
There is a lack of high-quality evidence for the use of acupuncture, herbal medicine, or cupping therapy for acne.
Procedure That Treat Acne
Your dermatologist may treat your acne with a procedure that can be performed during visit to the health facility. These treatments include:
Lasers and other light therapies: These devices reduce the  acnesbacteria. Your dermatologist can determine whether this type of treatment can be helpful.
Chemical peels: You cannot buy the chemical peels that dermatologists use. Dermatologists use chemical peels to treat 2 types of acne — blackheads and papules.
Acne removal: Your dermatologist may perform a procedure called "drainage and extraction" to remove a large acne cyst. This procedure helps when the cyst does not respond to medicine. It also helps ease the pain and the chance that the cyst will leave a scar. If you absolutely have to get rid of a cyst quickly, your dermatologist may inject the cyst with medicine.
Electrocautery and electro fulguration have also been reported as effective treatments for comedones.
When regular light is used immediately following the application of a sensitizing substance to the skin such as aminolevulinic acid or methyl aminolevulinate, the treatment is referred to as photodynamic therapy (PDT).
Dermabrasion is an effective therapeutic procedure for reducing the appearance of superficial atrophic scars of the boxcar and rolling varieties. Ice-pick scars do not respond well to treatment with dermabrasion due to their depth.
We are at Dermesthetic have highly qualified Dermatologists/Cosmetologists who are expert in acne treatments and procedures. And don't forget, waiting for acne to clear on its own can be frustrating. Without treatment, acne can cause permanent scars, low self-esteem, depression, and anxiety. To avoid these possible outcomes, dermatologists recommend that people treat acne. When the skin clears, treatment should continue. Treatment prevents new breakouts. Your dermatologist can tell you when you no longer need to treat acne to prevent breakouts.
Side Effects
Side effects of acne treatments vary depending on the method you choose and the potency of the medication. For topical acne drugs, the most common side effects are skin dryness and irritation. Fortunately, these symptoms are temporary. They often improve as your body gets used to the medication. If your skin itches, burns, or peels heavily, tell your doctor.
The potential side effects for oral medications can be more serious. Antibiotics can give you an upset stomach or make you dizzy and lightheaded. If you're also taking birth control pills, use a back-up birth control method. Some antibiotics reduce how well birth control pills protect you from pregnancy. If you're using birth control pills to manage your acne, be aware that side effects of oral contraceptives include an increased risk of blood clots and high blood pressure.
Oral isotretinoin can cause severe side effects, especially if you become pregnant while taking it. Severe birth defects have been reported in babies whose mothers took isotretinoin during pregnancy. The medication can also increase the risk of depression and suicidal thoughts and affect your cholesterol levels and liver function.