HydraFacial is a skin treatment uses to deep-clean, exfoliate, and hydrate your skin. This professional procedure may help treat a variety of skin conditions, including acne, dryness, spots, enlarged pores, oily skin and wrinkles. HydraFacial is a medical-grade resurfacing treatment that clears out pores, cause skin tone evenness and vibrancy, firmness of skin, brightness of skin, plus it hydrates your skin, reduce fine lines, cause elasticity and firmness of skin.
HydraFacial also sometimes called "hydradermabrasion" because it involves microdermabrasion-like exfoliation paired with hydrating serums. It's a really good treatment to do before an event because it leaves your skin glowing and healthy. The initial results typically last a few days, but overall skin health is improved for several weeks to a month. We at DERMESTHETIC at Sialkot & Lahore, Pakistan have experienced dermatologists and cosmetologists having expertise and knowledge of HydraFacial treatments and procedures.
CONSULTATON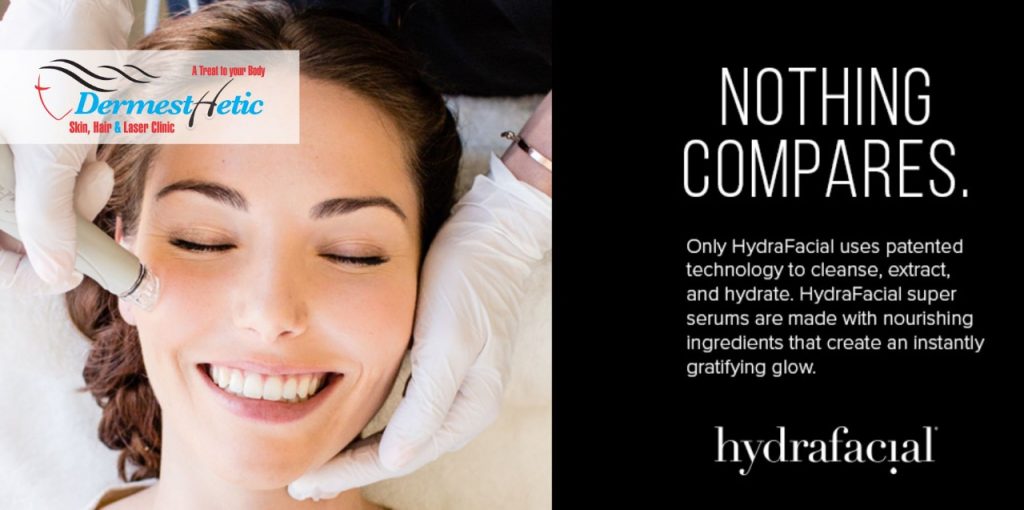 In theory, a HydraFacial is designed to help address the excess sebum (oil) and dead skin cells that can lead to breakouts. The treatment may also help clear impurities during skin purging that may happen after deep exfoliation. Before your treatment, let your provider know if you have extremely sensitive skin or are allergic to any ingredients that might cause your skin to break out after the treatment. And follow up with them if you experience breakouts after a HydraFacial.
A thorough evaluation by a dermatologist/cosmetologist is imperative before embarking upon a HydraFacial. Chemical peels are used to treat a number of conditions including:
Acne scars
Aging skin
Fine lines
Brown Spots
Enlarged pores
Clear skin & complexion
Melasma
Scars
Even skin tones
Sun damaged skin
Dirt & other impurities
Dryness of Skin
Wrinkles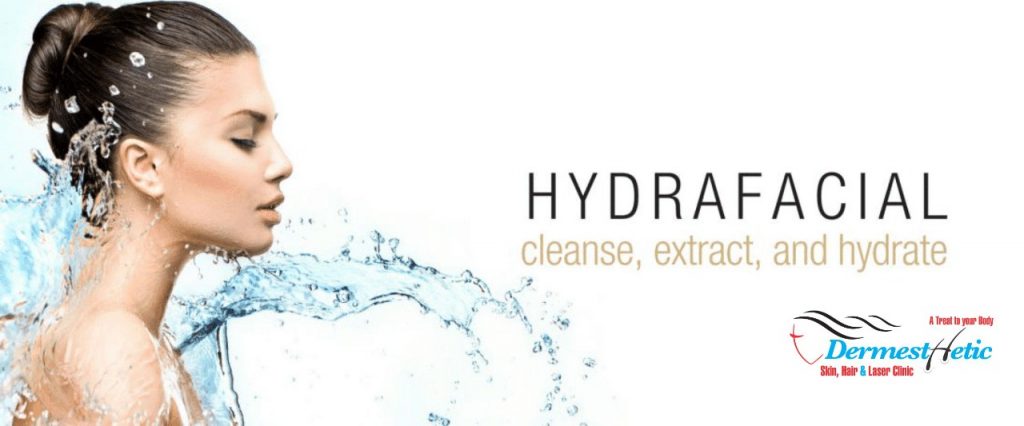 The frequency of HydraFacial sessions depends on your skin type and your provider's recommendations. Some websites recommend repeating the treatment every 4 weeks, while others encourage repeat sessions every 2 weeks. An aesthetician or dermatologist can help you determine the right number of sessions based on your skin condition and goals.
TECNIQUE
We at DERMESTHETIC at Sialkot & Lahore, Pakistan have experienced dermatologists and cosmetologists performing HydraFacial and properly advise the patient regarding the treatment after making diagnosis of the type of skin. A HydraFacial is performed by either a licensed aesthetician or a dermatologist. The procedure is completed in three parts:
Your dermatologist/cosmetologist uses a vortex-like wand against your skin to help clear away dirt and oil from deep in your pores. They also use a peel to help exfoliate and resurface your skin.
Your dermatologist/cosmetologist uses a vacuum-like attachment on the wand to help extract debris from your pores.
Your dermatologist/cosmetologist uses a pen-like attachment to apply a moisturizing serum with antioxidants.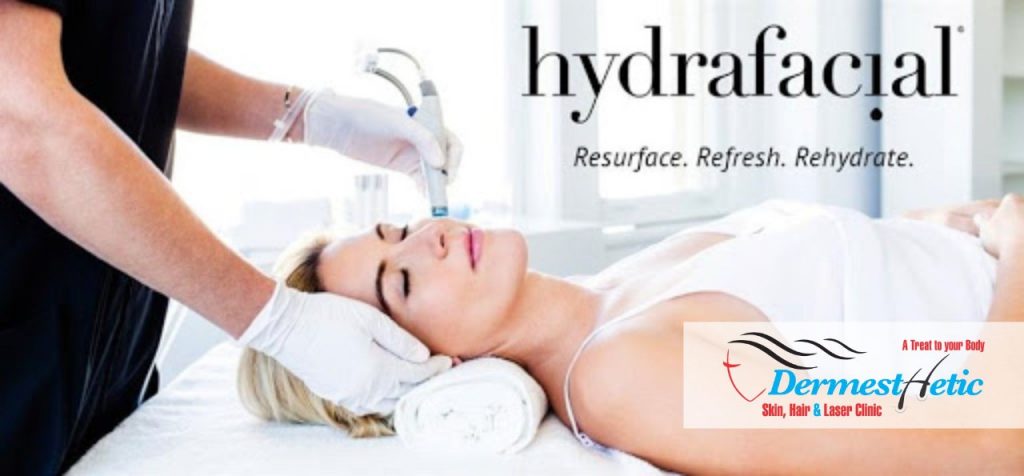 A HydraFacial is sometimes followed by other skin care treatments, such as dermal fillers or light therapy. These are considered add-ons and are not included as part of the HydraFacial.
TREATMENT
HydraFacials are non-invasive, meaning that no skin is punctured and you can come in for the treatment and walk away with no side effects. These facials work on every type of skin and don't hurt at all. It simply feels like a tiny vacuum is lightly tugging on your skin. Unlike traditional facials, a HydraFacial provides your skin with a gentle cleansing and rejuvenating experience without any pain during or after the treatment. This treatment is a great option for people with a wide range of skin concerns at different ages, giving your skin many benefits. The hydration applied during Hydrafacials penetrate more deeply than the manual application done during microdermabrasion. Glycolic, Salicylic and Lactic acids are used frequently in HydraFacial treatments. These acids are notorious for gently exfoliating skin by sloughing away dead skin cells.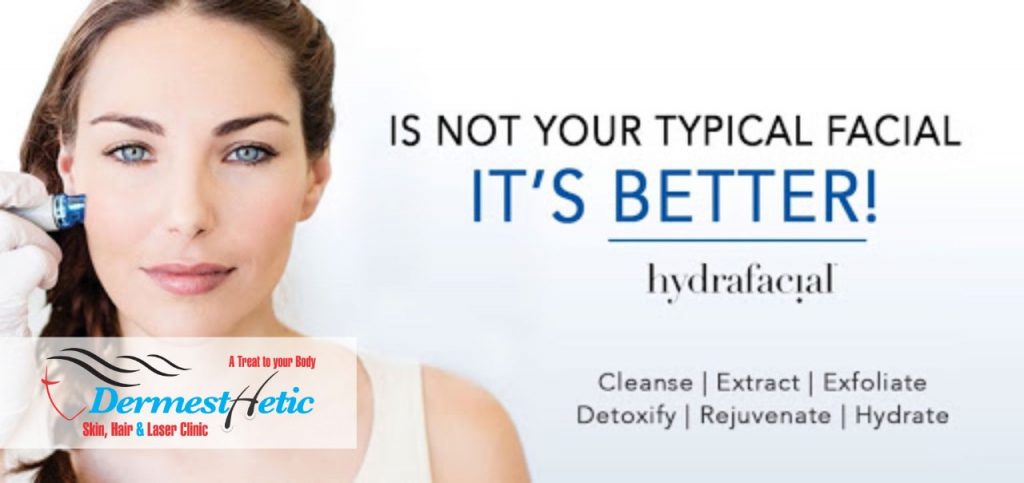 POST TREATMENT CARE
Each HydraFacial session takes less than an hour, and no downtime is required. Unlike with harsher procedures like chemical peels, you can resume your normal activities right away. While you shouldn't experience any redness or peeling after your session, it's still best to avoid exfoliating treatments for the first couple of days after a HydraFacial. It is essential to practice strict sun avoidance during and after the healing process. The skin may remain sun sensitive for some time after the HydraFacial. Do not wax or use depilatories for at least 48 hours after the treatment. Don't use any medium or deep chemical peels or laser treatments for at least two weeks after your facial treatment. Don't use any exfoliating treatments, like glycolic acid or enzymes, for at least 48 hours after the treatment.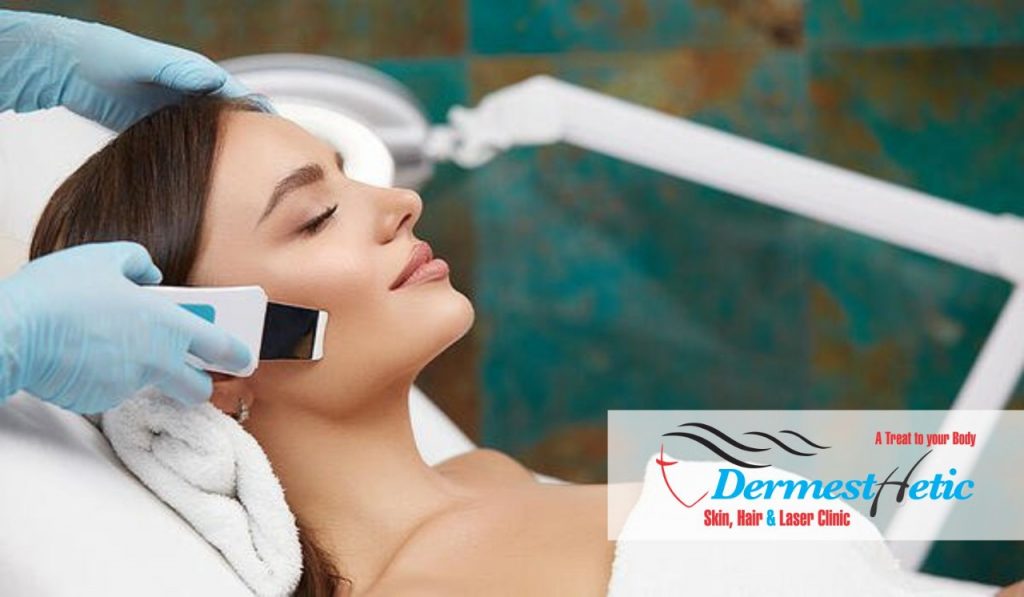 SIDE EFFECTS
While the HydraFacial is said to be free of complications Trusted Source, you may feel light pressure from the wand during the procedure. Unlike other cosmetic treatments, the HydraFacial isn't supposed to cause pain or redness. However, you should avoid this procedure if you have an active rash, such as one related to a rosacea flare. Therefore, it is recommended to get HydraFacial treatment form a qualified doctor. We at DERMESTHETIC at Sialkot & Lahore, Pakistan where the dermatologists have such expertise and knowledge.