High Intensity Focused Ultrasound (HIFU) is a relatively new cosmetic treatment for skin tightening that some consider a noninvasive and painless replacement for face lifts. It uses ultrasound energy to encourage the production of collagen, which results in firmer skin. A high intensity focused ultrasound facial, or HIFU facial for short, is a noninvasive treatment for facial aging. This procedure is part of a growing trend for anti-aging treatments that provide some of the benefits of a facelift without the need for surgery. HIFU treatments are a non-surgical cosmetic treatment that rejuvenates aging skin. It lifts sagging skin on the face and body, specifically on the lower face, around the eyes, and the neck. The treatment uses ultrasound energy to reach underneath the skin surface. High Intensity Focused Ultrasound is the latest clinically proven technology for face lifting and the reduction in the appearance of lines and wrinkles. HIFU directly delivers heat energy to the skin and subcutaneous tissue which then stimulates and renews the skin's collagen, improves its texture, and reduces sagging. We at DERMESTHETIC at Sialkot & Lahore, Pakistan have experienced dermatologists and cosmetologists having expertise and knowledge of HIFU treatments and procedures.
Consultation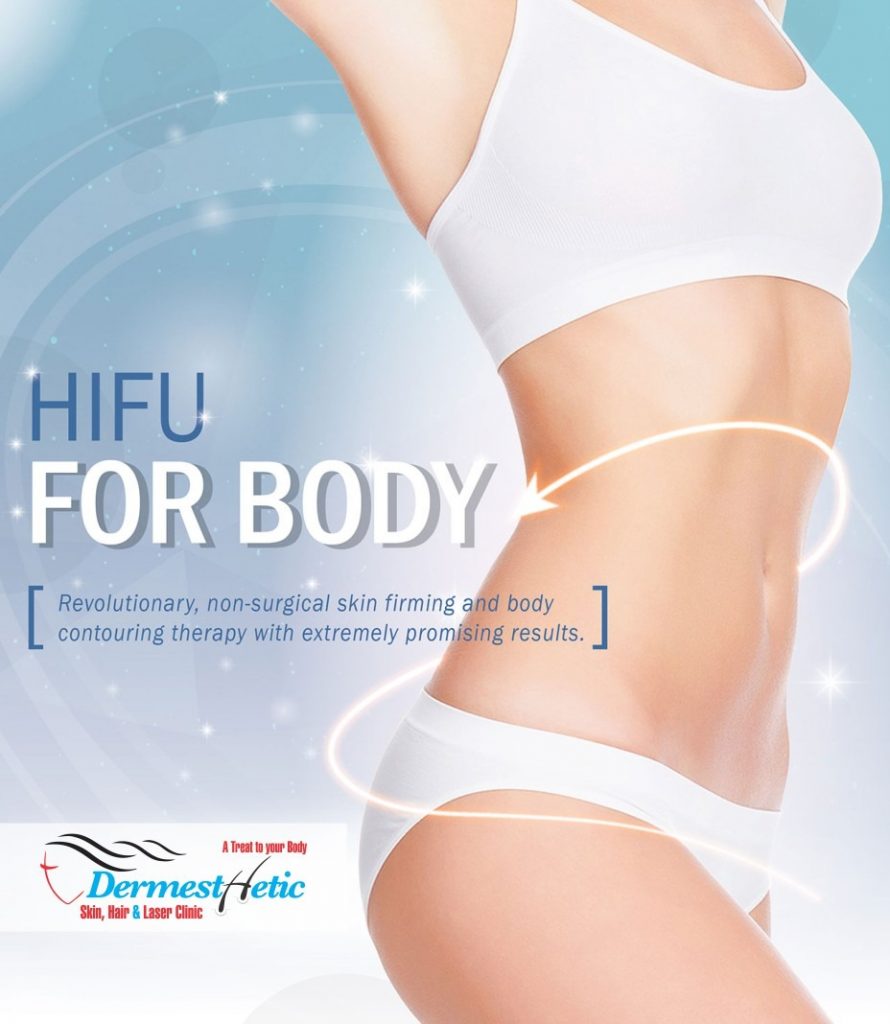 HIFU may not be appropriate for everyone. In general, the procedure works best on people older than 30 with mild-to-moderate skin laxity. People with photodamaged skin or a high degree of loose skin may need several treatments before seeing results. HIFU resurfacing treatments are among the most popular and effective methods for rejuvenating skin. Treatment is applied to the entire scarred region. In addition to ablating scar tissue and encouraging the regrowth of healthy skin tissue, HIFU can be used to shape large acne scars, sagging skin in order to reduce their appearance. HIFU resurfacing can also tighten the skin by inducing the contraction of the dermal collagen, which causes scars to appear flatter and less noticeable. For these patients, dermatologists at DERMESTHETIC be advised to consult for better results.
To schedule a personalized HIFU treatment consultation with our doctors to discuss what choices are available to treat your skin in the safest possible way then you have to visit or call at DERMESTHETIC at Sialkot & Lahore, Pakistan, where the dermatologists have such expertise and knowledge.
Technique of HIFU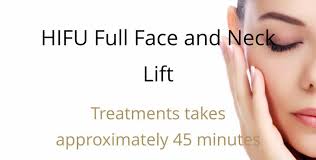 We at DERMESTHETIC at Sialkot & Lahore, Pakistan, have highly qualified Dermatologists who are expert in HIFU treatment. HIFU is an effective therapy for the treatment of sagging skin and skin rejuvenation. The new "HIFU" technology treats only a portion of the skin, leaving healthy intact skin surrounding the treatment area. This allows for fast healing and very safe treatments for all skin types. These less invasive treatments have a shorter recovery period than surgical options, but the results they provide are not as dramatic and do not last as long. Due to this, dermatologists Trusted Source recommend HIFU only for mild-to-moderate or early signs of aging.
Treatment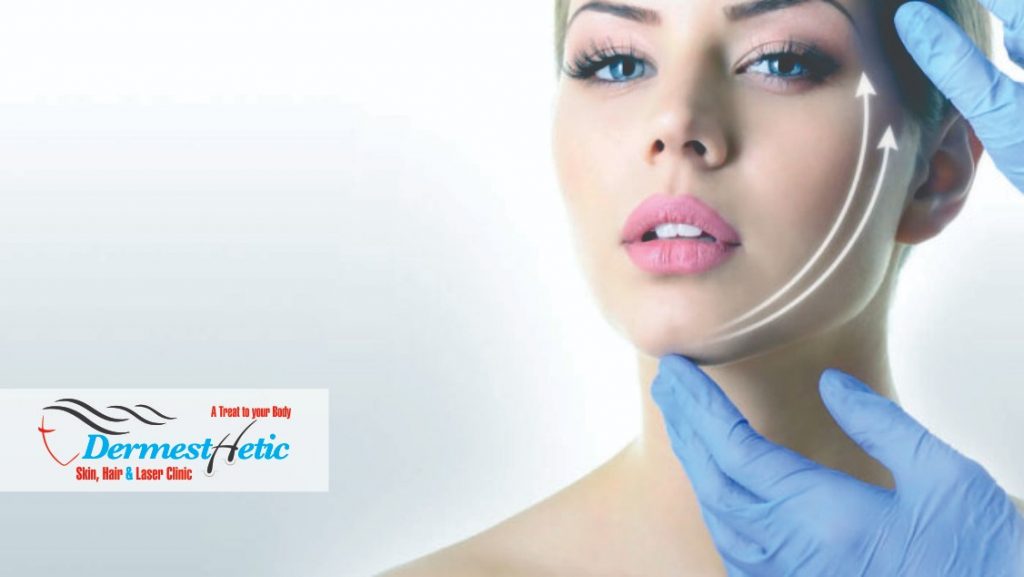 We at DERMESTHETIC at Sialkot & Lahore, Pakistan, have experienced dermatologists and cosmetologists treating the skin. Does it really melt fat? A proper HIFU procedure can reduce fats on the face / body when done properly with the right handpieces. Excess facial fats such as jowls, double chin, and chubby cheeks can be reduced with a proper type of HIFU. HIFU delivers more precise and more intense fractional ultrasound energy and are capable of penetrating deep into the skin and underlying tissue. HIFU are available at higher potency (power) than many other laser systems used in dermatology and cosmetic treatment.
A HIFU facial uses ultrasound to create heat at a deep level in the skin. This heat damages targeted skin cells, causing the body to try to repair them. To do this, the body produces collagen to aid in cell regrowth. Collagen is a substance in the skin that gives it structure and elasticity.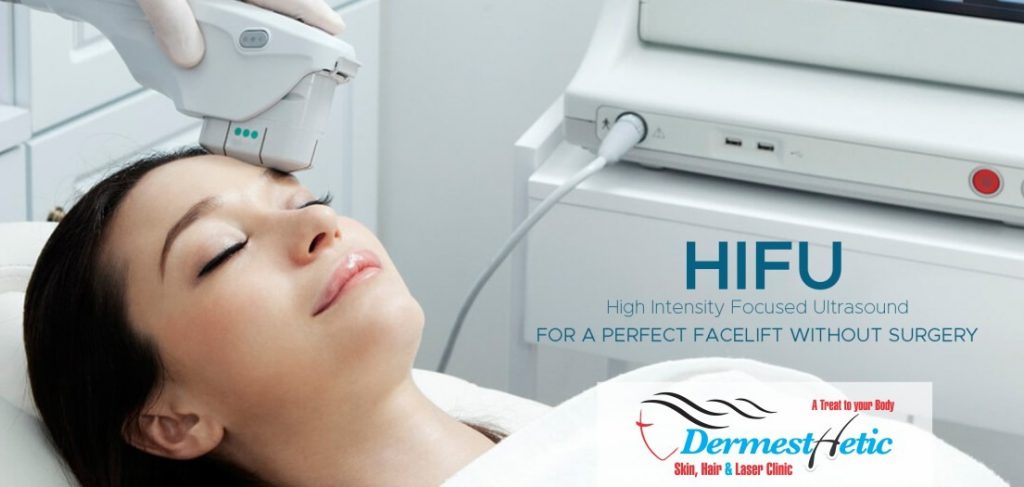 According to the American Board of Cosmetic Surgery, nonsurgical ultrasound treatments such as HIFU can:
tighten the skin on the neck
reduce the appearance of jowls
lift drooping eyelids or eyebrows
smooth wrinkles on the face
smooth and tighten chest skin
The type of ultrasound that this procedure uses is different than the ultrasound that doctors use for medical imaging. HIFU uses high energy waves to target specific areas of the body.
HIFU Procedure
Skin products containing potential irritants or abrasives like salicylic acids, benzoyl peroxide, retinol products, or vitamin C should be avoided until the skin no longer feels tender and swollen. Use instead a non-exfoliating cleanser and light moisturizer during this time. Unlike fat freezing, the high frequency of the ultrasound wave results in heating under the skin, also destroying the fat cells and tightening the skin in the area treated at the same time. The treated cells are then flushed away via the body's natural removal process. They may also require the use of anesthetics. Because of this, HIFU resurfacing procedures are generally only available in a specialized clinical setting.

We are at DERMESTHETIC at Sialkot & Lahore, Pakistan is equipped with HIFU Treatment and have highly qualified Dermatologists/Cosmetologists who are expert in HIFU treatments and procedures.
Risks of HIFU Treatment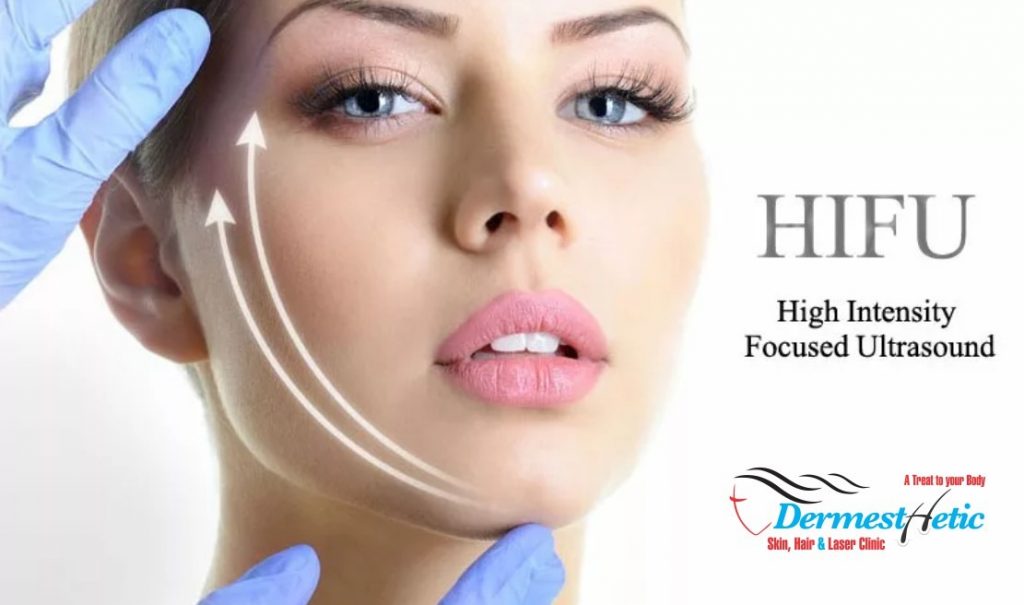 HIFU is considered to be a safe treatment because the ultrasound energy targets only the tissue that is present below the surface of your skin. This way, patients can rest assured that HIFU will not cause any damage to the upper layers of their skin. HIFU treatment is known as the 'lunch time face lift' as it's quick and you can return to work and continue with your day. Some people may have some mild redness and maybe light bruising the next day.
Side effects
Pain. Ultrasonic therapy is usually painless, with users reporting a slight tingling sensation or warmth on the skin.
Blotchy skin. This was the most common side effect reported by patients during a study researching the effectiveness of HIFU.
Swelling.
Numbness.
Hyper-pigmentation.
The absence of effect.