IPL stands for Intense Pulsed Light, and it is a form of light therapy, used for various dermatological procedures including hair removal, skin whitening etc. Unlike laser treatments, which emit a specific wavelength, IPL works like a flash-lamp, sending out scattered wavelengths of light, making IPL very targeted. That also means it affects the pigment in your skin too, so IPL only really works for those with fair skin and dark hair. IPL is a technology used by dermatologists and cosmetologists to perform various skin treatments for aesthetic and therapeutic purposes, including hair removal, photo rejuvenation (e.g. the treatment of skin pigmentation, sun damage, and thread veins) as well as to alleviate dermatologic diseases such as acne. IPL is increasingly used in ophthalmology as well, to treat evaporative dry eye disease due to meibomian gland dysfunction. We at DERMESTHETIC at Sialkot & Lahore, Pakistan have experienced dermatologists and cosmetologists having expertise and knowledge of IPL laser treatments and procedures.
Conclusion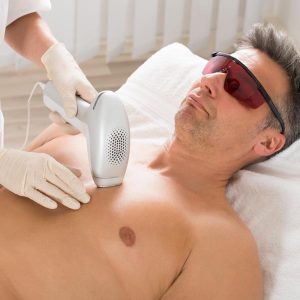 IPL is Intense Pulsed light.  The light is scattered and it can sometimes work on redness, sometimes on dark spots, sometimes on hair. Lasers, on the other hard are specific, each laser has a unique target or chromophore.  In the case of rosacea, the target is the color red. The V-Beam laser (V-beam Perfecta being the latest version) is the gold standard for treating rosacea or unwanted redness of any kind in the skin. It is not the same that a Dermatologist or Plastic Surgeon performs the treatment, compared to a non-physician, aesthetician, PA or nurse. Make sure the person doing it is a Dermatologist or Plastic Surgeon, if not, at least that the person doing it is under the supervision of the specialist for better and optimal results and also for less risks of side effects.
IPL was first developed for vascular conditions. It is at least as effective as pulsed dye lasers and can penetrate deeper with reduced risk of purpura and hyperpigmentation. IPL can also be used for the treatment of dry eye conditions such as meibomian gland dysfunction. IPL can treat pigmented lesions with rapid recovery. Dyschromia can be cleared after repeated sessions. Photo aging treatment has been explored. A series of IPL can be used for improving skin laxity, facial rejuvenation and collagen production. IPL combined with facial injections can be used for dynamic rhytids. IPL is employed in the treatment of a range of dermatological conditions including photo damage induced depigmentation and vascular changes,  rosacea, acne vulgaris, actinic keratosis, sebaceous gland hyperplasia, poikiloderma of Civatte,  vascular lesions (small blood vessels), pigmented lesions (freckles, liverspots, birth marks ), melasma,  broken capillaries/telangiectases, photo rejuvenation, basal cell carcinoma, and Bowen's disease (squamous cell carcinoma).
To schedule a personalized IPL laser treatment consultation with our doctors to discuss what choices are available to treat your skin in the safest possible way then you have to visit or call at DERMESTHETIC at Sialkot & Lahore, Pakistan, where the dermatologists have such expertise and knowledge.
Technique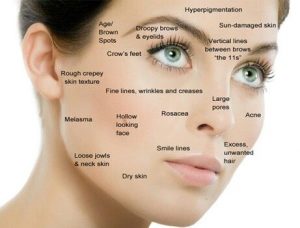 We at DERMESTHETIC at Sialkot & Lahore, Pakistan, have highly qualified Dermatologists who are expert in laser therapy/treatment. The technology uses a high-powered, hand-held, computer-controlled flashgun to deliver an intense, visible, broad-spectrum pulse of light, generally in the visible spectral range of 400 to 1200 nm. Various cutoff filters are commonly used to selectively filter out lower wavelengths, especially potentially damaging ultra violet light. The resulting light has a spectral range that targets specific structures and chromophores (e.g. melanin in hair, or oxyhemoglobin in blood vessels) that are heated to destruction and reabsorbed by the body. IPL shares some similarities with laser treatments, in that they both use light to heat and destroy their targets. But unlike lasers that use a single wavelength (color) of light which typically matches only one chromophore, and hence only one condition, IPL uses a broad spectrum that when used with filters, allows it to be used against several conditions. This can be achieved when the IPL technician selects the appropriate filter that matches a specific chromophore.
Treatment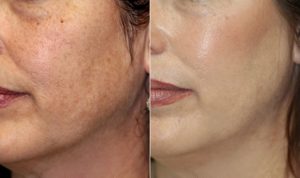 We at DERMESTHETIC at Sialkot & Lahore, Pakistan, have experienced dermatologists and cosmetologists treating the skin. At any one time, not all hair follicles are 'active' and only active hair follicles can be affected by the treatment. 'Inactive' hair follicles can be treated as they become 'active' over time. For IPL treatments, an average of 8–10 treatments are required to remove most visible hair. No common treatment protocol exists and it depends on the equipment used and patient skin kind. The area to be treated should be clean shaven and free of sunburn. Treatment sessions are usually 4 to 6 weeks apart. Safe and secure treatments are often given in dermatologists' health facility and not at so-called "medspas" by trained practitioners.
IPL Laser Procedure
IPL Laser technology is simply much more effective, and achieves substantially better results for Hair Removal. The majority of patients experience permanent hair reduction after 6-12 sessions (Results may vary from person to person).
IPL laser Hair Removal is a cheaper, effective technology for reducing body hair.
IPL laser are precise and can selectively target dark, coarse hairs while effecting the larger areas.
Each laser pulse takes a fraction of a second and can treat several hairs at a time.
IPL laser hair removal can be used to treat larger body areas.
IPL laser settings can be adjusted to suit your specific skin tone and hair colour.
IPL lasers used for aesthetic and therapeutic purposes, including hair removal, photo rejuvenationg. the treatment of skin pigmentation, sun damage, skin lightening and thread veins as well as to alleviate dermatologic diseases such as acne.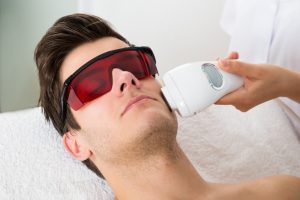 The main differences between Laser and IPL/VPL, used as a hair reduction treatment, mainly lie in the technology that each use to generate the light, as well as the different properties of the light being used.
We are at DERMESTHETIC at Sialkot & Lahore, Pakistan is equipped with IPL Lasers and have highly qualified Dermatologists/Cosmetologists who are expert in fractional CO2 Lasers treatments and procedures.
Risks of IPL Laser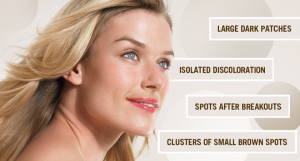 Contrary to what is often claimed, photo epilation is not a permanent hair removal method but a permanent hair reduction method. Although IPL treatments will permanently reduce the total number of body hairs, they will not result in a permanent removal of all hair.
Certain skin conditions, health irregularities and medications can impact whether it is safe for a person to receive a light based hair removal treatment. Photo-sensitizing medications, or damage to the skin are contraindications to treatment. According to manufacturers of an IPL device, all IPL and laser devices should only be used on light to medium skin tones and work best on darker hair.
Side Effects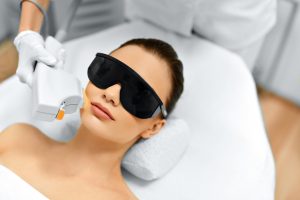 IPL Lasers are aggressive laser technologies that can cause significant and permanent skin damage if used improperly. Some patients react to almost any stimulus with a blush or red response. These people can expect to be red either mottled or diffused like a sunburn for a few hours after a treatment. The red response goes away quickly and can be covered with makeup until it resolves. During the treatment, you will be awake and experiencing only very mild discomfort.