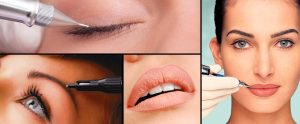 Permanent makeup involves implanting pigments into the skin to reproduce the look of cosmetics. Some of the most popular applications include enhancing colors on the face, especially around the eyes and lips. Like most tattoos, permanent makeup fades with time and may require touch-ups. Permanent makeup is a cosmetic tattoo used to produce a long-lasting look that mimics the use of makeup. The tattoo is implanted into the dermal layer of skin. Although it is long-lasting, it will fade over time, just like any other tattoo. Permanent makeup results in enhanced features of the face, definition is rendered to eyebrows, eyes and lips by the use of colors. Results can imitate topically applied cosmetics or can be quite unnoticeable, depending upon the design, color value and amount of pigment used. We at Dermesthetic have experienced dermatologists and cosmetologists doing these procedures.
Permanent makeup (permanent pigmentation of the dermis) is also commonly called permanent cosmetics, other names include derma pigmentation, micropigmentation and cosmetic tattooing. Permanent makeup is a cosmetic procedure which employs tattoos as a means of generating designs that look like makeup, such as eyelining and other permanent augmenting colors to the skin of the face, lips, and eyelids. It is also used to build artificial eyebrows, particularly in people who have vanished them as a result of old age, disease, such as alopecia totalis, chemotherapy, or a genetic disturbance, and to disguise scars and white spots in the skin such as in vitiligo, which is a long term skin disorder characterized by patches of the skin losing their pigment. The patches of skin affected become white and usually have sharp margins. It is also used to restore or enhance the breast's areola, such as after breast surgery.
Consultation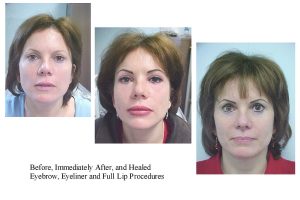 Cosmetic tattooing also has more serious repercussions, such as improving the appearance of a nipple after breast reconstruction. Check your tattoo artist's/cosmetologists credentials carefully. To avoid infections and ensure professional results, it is important to get treatment from a qualified cosmetologist / aesthetician. Technicians usually do not used safe instruments but the cosmetologists / aesthetician use sterile gloves and sterilized equipment. We at Dermesthetic have such expertise and knowledge.
Permanent makeup, or cosmetic tattooing, is a fast-growing part of the health and beauty industry. If you have faint eyebrows, no eyebrows, or partial eyebrows, a cosmetic tattoo can help. A lip tattoo can reduce "lipstick bleed," and give definition to the lip line. With a colored lip tattoo, lip scars disappear, plus you can kiss lipstick good-bye. After an eyeliner tattoo, you can put away your eye pencils for several years.
Ingredients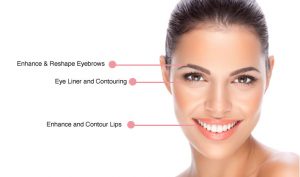 Topical anesthetics are frequently consumed by technicians prior to Cosmetic Tattooing and there is the potential for adverse effects if topical anaesthetics are not used safely, therefore it is recommended that a dermatologist cum cosmetologist services get for this procedure.
The causes of a change of colour after cosmetic tattooing are both complex and varied. Primarily there are four main areas that have influence over the potential for a cosmetic tattoo to change colour;
Factors related to the pigment characteristics;
Factors related to the methods and techniques of the tattooist;
Factors intrinsic to the client;
Factors related to the client's environment and medicines.
Technicians (preferably a dermatologist cum cosmetologist) need to have a comprehensive understanding of these influences to achieve more predictable outcomes for their clients. Clients need to confirm that they get the services of technicians that have proper training, which usually a dermatologist cum cosmetologist possess, should include a period of supervised application of pigments prior to allowing to perform any procedure. We at Dermesthetic have such expertise and knowledge.
Technique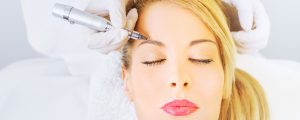 Before getting permanent makeup applied, you'll get a patch test on your skin to check on whether you have an allergic reaction to the pigment that will be used. After that, you will choose the color, based on advice and suggestions from the cosmetologist. The cosmetologist will then use a sterile surgical pen to sketch the area to be tattooed and then put an anesthetic gel on your skin.
Using a hollow, vibrating needle, the cosmetologist will apply the pigment into the top layer of the skin. Each time the needle penetrates the skin, a droplet of pigment is released into the hole the needle makes. You will feel a slight stinging. After getting permanent makeup, it takes about three weeks for the color to fade to its permanent shade. At first, the color will likely look dark and shiny, and the surrounding tissue will be swollen and red.
You can use a cold compress to reduce swelling and antibiotic ointment to help prevent infection. Strict sun avoidance and use of sunscreens that block the entire ultraviolet light A and B spectrum for several weeks is important to prevent post-inflammatory color changes. Complications are rare but can include infection or allergic reactions to the tattoo dye. We at Dermesthetic have experienced dermatologists and cosmetologists doing these procedures.
Treatment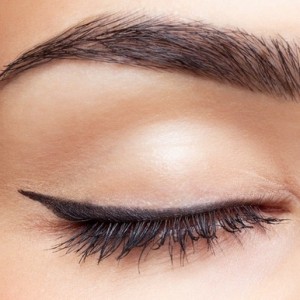 The procedure of permanent makeup is just like getting a tattoo. The person applying permanent makeup uses a needle that penetrates your skin and releases pigment. Proper sterilization and techniques are key. In the hands of a skilled person like a dermatologist/cosmetologist, the procedures are generally safe. But state regulatory agencies haven't kept pace with the growth of the permanent makeup industry, and there are lots of unqualified people wielding needles destroying skin and may cause fatal diseases like hepatitis etc. We at Dermesthetic have highly qualified Dermatologists/Cosmetologists who are expert in permanent makeup.
Permanent makeup is considered micropigmentation, similar to tattoos. It involves using a needle to place pigmented granules beneath the upper layers of the skin. Tattooing and medical restoration, which corrects imperfections from scars and vitiligo (lack of natural pigmentation in the skin), are similar procedures. Permanent makeup for eyeliner is the most popular cosmetic enhancement, followed by eyebrows and lip color. Most procedures are done after applying an anesthetic to the skin. After the initial procedure, touch-up might be required but no sooner than one month and as much as three months later. Practitioners include dermatologists, cosmetologists, aestheticians, nurses, and tattooists but it is recommended to hire a qualified person which undoubtly, a dermatologist cum cosmetologist under peculiar circumstances of Pakistan.
Side Effects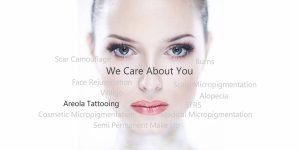 Allergic reactions to pigments are reasonably rare, but it's difficult to remove the irritant. Experts at FDA suggested that anytime you implant a foreign body into the skin, it has the potential for results not anticipated. The reaction could occur years later as a rash or an immune system allergic reaction. Pigments, like iron oxide, rarely cause allergic reactions. Iron oxide has been shown to be the safest pigment. There are cases of undesired outcomes. The four most common complaints are "too dark," "wrong colour," "uneven" and "too big." A skilled, experienced, permanent makeup professional is able to adjust the colour and evenness of permanent makeup results in most cases. A design that is too large presents a serious challenge, however remedy against this is costly pigment lightening techniques and/or removal may be the only solutions. Anything that is vegetable based, organic, or natural is the most risky. It's the natural products in vegetables and herbs that can cause horrible allergic reactions.
It is essential that technicians (preferably dermatologist cum cosmetologist) use suitable personal protective instruments to safeguard the health of the technician and the client particularly in the prevention of transfusion of blood containing pathogens. On very rare occasions, people with permanent makeup have reported inflammation or itching or burning in the affected portions when they underwent magnetic resonance imaging (MRI). However, a detailed review of the cases within the medical literature comprising cosmetic tattoos shows that low quality pigments, pigments adulterated with heavy metals, and pigments with diametric magnetic properties may have been the causative factors in most of those cases.
As with tattoos, permanent makeup may have complications, such as migration, allergies to the pigments, formation of scars, granulomas and keloids, skin cracking, peeling, blistering and local infection. The use of unsterilized tattooing instruments may infect the patient with serious diseases such as HIV and hepatitis. Removal problems may also arise, due to patient dissatisfaction or regret, and they may be particularly hard to remove in places such as eyelids and lips without parting permanent sequelae. Compliance with standard precautions and a uniform code of safe practice should be insisted upon by a person considering undergoing a cosmetic tattoo procedure. We at Dermesthetic have experienced dermatologists and cosmetologists doing these procedures.